Avoid Slips and Falls – Minimize Accidents, Injury, and Cost with the correct cleaning regime!
Regular warehouse/manufacturing cleaning is important to ensure a tidy, safe, and clean environment. In fact, slips and falls are the leading cause of workplace injury, and the majority can be easily avoided with the right cleaning program, equipment, and chemicals. If you are overwhelmed by the number of tasks it takes to clean a warehouse, or the equipment needed to help you get there, this comprehensive guide will point you in the right direction.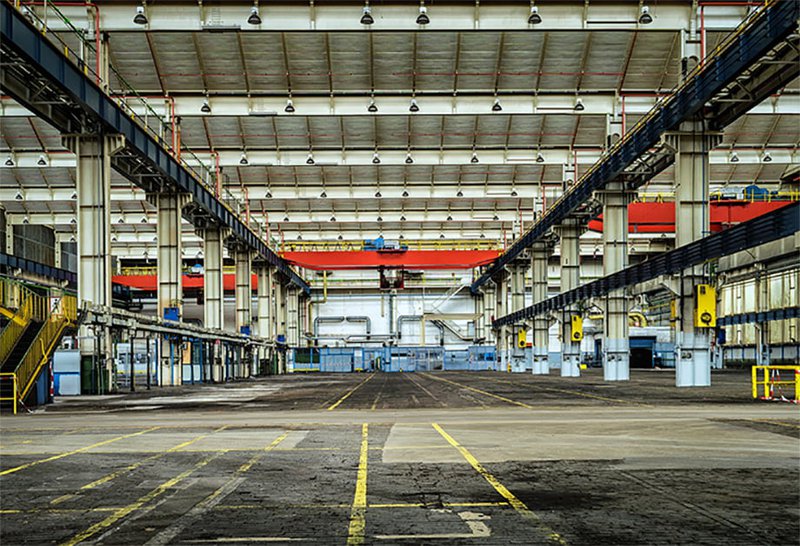 Lift North America is an authorized distributor of Dustbane – providers of high-quality cleaning equipment, tools, and chemicals. With over 100 years of experience in the industrial cleaning industry, Dustbane recognizes that warehouse cleaning often starts with a simple multi-step program. It is most important to focus on the following areas: grease buildup and liquid removal, floor protection, dust and dirt reduction, sweeping, and reducing airborne dirt. However, your company may have more specific needs that can be tackled with additional Dustbane products and equipment available through Lift North America.
Grease Buildup Removal:
Cleaning solutions and degreasers are important to remove tough soils and grease build-up on warehouse floors and equipment. Dustbane's Emerald Degreaser and Complex Orange are industrial and food grade products made from a biodegradable, solvent-free formula that effortlessly breaks down grease, oil, and other tough stains. They can be used in a spray bottle, bucket, or auto-scrubber and are safe for most surfaces. Bio-Bac II is a cleaner, degreaser, and deodorizer that penetrates hard surfaces to remove organic soils safely and is ideal for garbage compactor cleaning. Dilution systems are also available to maximize chemical performance and minimize cost.
When floors need to be cleaned in a timely manner and dried quickly for safety purposes, an auto-scrubber is the best solution. Auto-scrubbers allow for thorough, efficient cleaning of large areas while minimizing effort and strain from the user. Opposed to the traditional mop and bucket, auto-scrubbers spray a cleaning solution onto the floor, scrub the surface, and pick up excess liquid – all within a single pass! Dustbane's Industrial Hurricane Series is designed for both commercial and warehouse use and is equipped with the latest technology for easy operation.
Dust Reduction & Sweeping:
Sweeping large areas of debris can be very time consuming, and not feasible using a broom and dustpan. The Targa series from Dustbane offers user-friendly vacuums that are able to quickly remove wet and dry debris, without releasing dust into the air. Dustbane's Industrial Gladiator sweepers are another solution for cleaning commercial, manufacturing, warehouse, and factory floors. With this equipment, you can increase productivity while saving time and money.
Lift North America specializes in both equipment and chemical sales, as well as servicing. Qualified technicians service all in-house makes/models of equipment and are available for emergency service. If your cleaning equipment needs attention, please contact us today at (888) 305-3331 or email info@liftnorthamerica.com.